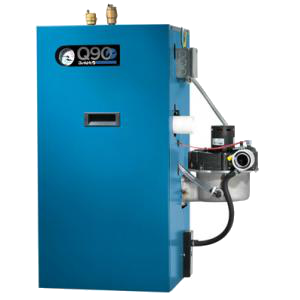 For immediate plumbing assistance, call our closest location to you:
Northwest - 847-605-0273, West - 630-424-9914, Southwest - 815-423-5040, South - 708-403-2944
If your home has hot water radiators in each room for heat, you have a boiler to heat the water. Like a furnace, the energy efficiency of a boiler is given as the Annual Fuel Utilization Efficiency (AFUE). Boilers manufactured since 1992 must have an AFUE of at least 80%. We offer a complete line of gas and oil boilers starting at 80% AFUE and up.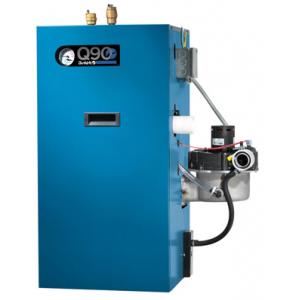 Q90 Series
View Brochure
Model Family: Q90
Annual Fuel Utilization Efficiency: Up to 90% AFUE
Energy Star Rated: Energy Star Rated
Heat Exchanger Warranty: 15 Year Limited Warranty
Warranty: 2-Year Parts & Labor Limited Warranty
Manufacturer's Stated Benefits:
Capacity: 50 - 75 - 100 MBH
Heat Exchanger: Cast Aluminum
Combustion: Sealed Combustion
Venting: Direct Vent
Boiler Type: Hot Water
Boiler Control Module: HSI Integrated Boiler Control
Combination Hydrolevel High Limit and LWCO with boiler water temperature reset feature
Heat Exchanger: Cast Aluminum Heat Exchanger
Combustion: Stainless Steel Premix Burner
Induced Draft Blower with adjustable exhaust (front, right side or rear), Inducer Motor Assembly includes 5' schedule 80 2
Electrical: Junction Box, Transformer and Wiring Harness
Textured painted steel jacket
Temperature/Pressure Gauge
30 PSI Safety Relief Valve
Pressure Switch(es)
Low Profile Condensate Trap
Leveling Legs